Transgender Offence and the Great Paddy Power Debacle!

Note the sausage in the background!
This week the Advertising Standards Authority (ASA) investigated 92 complaints that the advert Paddy Power 'Ladies Day' was offensive and condoned harmful discriminatory behaviour.
It ruled that it must not be shown again in its current form.
If we read between the lines here, it is clear that the advert has problems in its 'current form', but these are issues that could easily be edited and a better voice-over could be done in an afternoon.
If we take a look at some of the other ads PP have run, some never even made it to air, this one in particular 'TakeAway'.
Despite it clearly being multicultural, and for once not showing disabled people as victims, it was pulled. This showed regular blokes up to mischief instead of patronising them.
Advertising and Transgender People
The BIG problem with the transgender community and it being represented in the media is there are VERY few transgender people on television, other than sitting on a sofa talking about their 'broken lives' or as medical samples. Transgender newsreaders? Presenters? Comics (mainstream)? Actors? You have to look pretty hard (and we do! Just look here!) http://forum.transgenderzone.com/viewforum.php?f=106 for a trans face on television.
Even when there is, its usually for laughs – check out our TV awards for more on that – especially Big Brother's Bit on the Side with Lauren Harries and Pete Burns – you can search their names above for more.
So when Paddy Power decided to use genuine transgender people (not just cisgenders (non-transpeople)) for this commercial they contacted the Beaumont Society's head of PR, Janett Scott (you can listen to her thoughts on this in part two of this recording) and she was cruelly treated as a result – something our community should be ashamed of themselves for! http://forum.transgenderzone.com/viewtopic.php?f=17&t=2999, but to cut a long story short, the outline they offered her was far better than the delivery.
It seems that the Idea of having a bit of fun with genuine transgender people at 'the races' got a little bit out of hand with the voice-over. Basically it is 'spot the transgender woman'.
Now, clearly people were offended by this, and they have every right to be, people get offended by all sorts of things, I personally dislike anyone playing a transgender role who is not transgender, as it always comes across as false, lacks authenticity, the actor cannot draw on the lived experience, and 99% of the time they just look comical – they would not do this with ethnic minorities 'blacking up' nor would they do it with gender, a man would not be cast as a woman because they were a better actor when the part called for a female.
ITV's Benidorm is a case in point here, where the role of a 'transvestite' is played by (non-trans) Tim Healey for laughs. Julie Hesmondhalgh in Coronation St (ITV1) is unusual but despite her best efforts, she IS a 'biological female' who is also a mother in real life pretending to be a transsexual. What is wrong with that? Where do I begin? First and foremost it makes the viewer feel safe as they know that's not 'really' a transperson – so they will not be disgusted by intimacy for example. To be fair they did try Marcia/Marc, a crossdressing storyline but this was pulled – it was just too real! But that was far nearer the truth than Hayley!
People were offended by Marcia, some were quite vocal in the press about it. But why? It is quite possible for Andrew Hall (Actor) to be a crossdresser, but it is impossible for Julie Hesmondhalgh to be a transsexual woman!
So we have offence here when something is too real! But we also have offence (to me) when something is not real enough.
The next big problem is comedy. To quote Matt Lucas last week on his show 'The Matt Lucas Awards' (BBC). He made this interesting observation with celebrity guests, Maureen Lipman, Julian Clary and Stand-up Alex Home, after Maureen Lipman tells a Jewish gag:
Matt replies,
"We are Jewish so we can say ANYTHING!" "If you are watching and you are not Jewish you can say nothing!!!" Points to Julian and says, "We are gay so we can say anything, if you're watching and you are not gay you can say nothing!" "This is how comedy works!!!""Thats true(!)," they reply.
Indeed that is true Matt so then how do you explain this?
By that logic Matt you are not trans so you can say NOTHING! But that didn't stop the ASA approving something which to me is far more offensive than the Paddy Power Ad. As this not only does not hire or even take into account the trans reality, it sets out to mock and humiliate the community.
We only have to look at other ads that have been approved and run for quite some considerable time in many guises, the Bounty/Plenty Kitchen Roll ads.

Here we have two crossdressed (non-trans) oafs wiping 'filth' (we all know what it really is!) off prostitutes windows in Amsterdam!!!
Is this acceptable? The ASA clearly thought so.
Banning just adds a mystique
Anyone who grew up in the 1980s will remember what happened when they banned Frankie goes to Hollywood's 'Relax' – It went straight to number one.
This was the video that was 'allowed' although the song was still banned by the BBC
And this was the video we all wanted to see!
You decide which is best – the world has decided it was the banned one.
Banning it made it more desirable and more 'naughty' more people talked about it – it was forbidden. That is the last thing you say to a teenager! 🙂
The banning meant a track suddenly was front page news. This is gold dust! And Paddy Power have reaped the same rewards currently their YouTube ad has had over half a million hits. Before the complaints were made it was hovering at around 68,000. Is it realistic to react like this. Before the Internet, this would have been a good idea, as there were only a few channels, today because of the net the ad maybe banned from regular TV networks, but it lives on on Youtube and their own site of course, and in other places too! I suspect their own High St betting shops would continue to air it in-house to their customers between races. So was this a bit of an own goal? We have clearly not learned from history repeating itself, especially when they are the ONLY company to employ actual transpeople, Nationwide didn't and they got away with it with David Walliams and Matt Lucas, does anyone else here see the contradiction? Perhaps rather than employ transpeople in future they'd be better off employing Matt Lucas to pretend to be trans.
Transwomen, struggle to get work, in part because not all pass well enough, many transwomen (of course not all – but not all want to be on stage) have to turn to the sex industry for an income, be that dancing, 'performing' or the 'obvious(!)', or get into what is often second–rate cabaret to be in 'entertainment'. Is appearing in this ad any worse than that? It is possible those that took part may have been booked for other work as a result, and built their portfolio. Now that's likely to be in shreds.
Comedy – when is it OK to abuse your own community?
Well we all know the rules here as this video shows!
We all know that if you want to tell anti-Semitic gags you hire Joan Rivers, you don't hire Frankie Boyle! If you want to tell jokes about Scotland you hire Frankie Boyle as then it's not racist. If you want to mock the disabled as Frankie Boyle did and got burned for, no, you hire Francesca Martinez and then it is OK, Asian gags? You hire Paul Chowdhry! What about the Middle-East? Well that's simple you have to be VERY careful with this area of the world so it's a no-brainer you bring in comics Omid Djalili and Shappi Khorsandi. Irish? Well take you pick but the obvious are Ed Byrne and his mate Dara O'Briain. Homophobic? Fear not! Watch Julian Clary, Alan Carr, Paul O'Grady or Graham Norton.
And of course if you want to mock little people you pick Warwick Davies – as Ricky Gervais did, shame he didn't do the same for his character 'Derek'.
As Matt Lucas said earlier, if you are not of that community you have NO right making those gags.
So when Paddy Power actually hired transgender people as a vehicle to carry the gags, it is clear that they were thinking in this way. If we make jokes about transpeople we therefore have to have Transpeople make them or at least be part of it – as was the case with Grayson Perry on 'Have I got News for You' (BBC) – as this applies everywhere else. They even contacted the Beaumont Society too – they didn't have to! As the Bounty Kitchen Roll and Nationwide ads prove – you do not necessarily need the permission of those you are mocking. As an aside there is a 'Find a Property' ad running right now
Again it is laughing at someone crossdressed, why not use an actual pensioner? Then we could laugh along with them. Noone watching that ad is thinking anything other than 'that's a man in a frock'!
There is clearly a long way to go with all this, and whilst it is important to regulate and complain when we are offended, sometimes we have to see the bigger picture. If we are too sensitive, especially in the rare times where it's actually a transgender person, we will unlikely ever break through as no channel will want to risk having what are expensive productions pulled by the regulators. It will also put holes in the careers of potential transgender talent breaking through.
Even transsexual actress and performer Candis Cayne before Dirty Sexy Money (the benchmark fo transpeople in drama) was in a programme pictured like this in the opening credits – yes she is dead in the gents toilets not just walking out of them!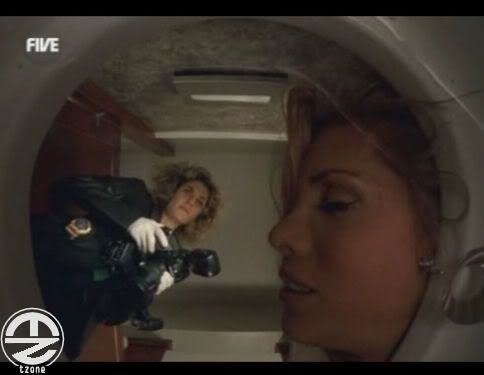 (CSI NY/CBS/Paramount)
Yes that's the toilet bowl!
But that lead to this!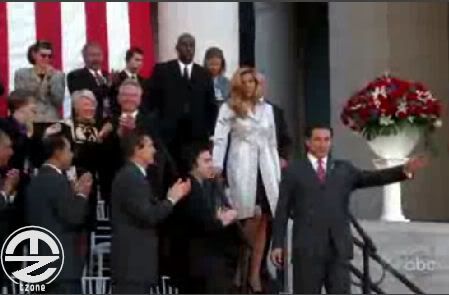 (Dirty Sexy Money/ABC)
More
http://forum.transgenderzone.com/viewtopic.php?f=16&t=222
Offence through terminology
Ironically the use of derogatory terms is rife and not a word is said, one look through our logs can prove that here http://forum.transgenderzone.com/viewforum.php?f=106 or why not vist our 'Say NO to Tranny!' page here and follow our progress http://saynototranny.transgenderzone.com/. Unlike the endless abuse the transgender community faces from apparently innocuous programmes and even Loose Women (ITV Daytime)! With all this at their disposal Paddy Power still chose to use the term 'beautiful transgender ladies', even the title of the ad is 'Ladies Day'.
Conclusion
Whilst Paddy Power slipped up in a few areas.
1. They had a woman leaving the gents toilets in one scene.
2. They by having a spot of "who is trans"for 'fun' let many transpeople down.
3. It was more sexist to women per se than anything else.
They however made some good policy decisions that need to be recognised and applauded!
1. They introduced the ad with 'Beautiful transgender ladies'. Not 'trannies' or she-males – both are even said on 'The Simpsons' on Channel 4 at 6pm weekdays for goodness sake! They clearly had to introduce transgender people as transgender people as else why bother hiring transgender people at all? So they had to develop something around this issue.
2. The women were impeccably dressed, made-up and their hair was fabulous!
3. They were so smart that you simply could not tell who was trans or not – and that was the whole point. That's a very positive message in a kinda underhanded way – a bit like shouting a compliment in your face.
On balance and just because they hired transgender people, despite the other misgivings they were on the right path. It is now for ad agencies to build on this, so if you are in the media and are reading this please continue to hire transwomen and contact transgender support groups for advice.
We wouldn't want this unfortunate episode to taint getting more transpeople into the media, Paddy power took a risk, and despite the ban it still paid off, they got more publicity than you could throw a stick at! Transwomen got a salary, those transwomen looking for more 'extras' work (supporting cast) got something for their portfolio and some experience in front of the camera being directed. And I suspect it was a thrilling and exciting day out for the cast – after all people pay good money for make-overs half as good as this!
For these reasons I am firmly on the fence with this ad – one of those rare times I am totally neutral – but that won't last. 😉
Transgender Media Critic – Ice Maiden
You can comment here
http://forum.transgenderzone.com/viewtopic.php?f=108&t=3018
References:
http://www.bbc.co.uk/news/uk-england-gloucestershire-18075633
http://www.beaumontsociety.org.uk/
http://transmediawatch.org/