Well I am always surprised that at the beginning of every month what on earth am I going to talk about for the following month?
I mean how can trans issues remain constant in the way they do.
But this month like the others they just keep on coming!
This Month we have a few things that I think you should tak a look at.
The First is the controversial Hollyoaks (UK Teen Soap) that features a cisgender (not transgender) female playing a transgender girl here.
Hollyoaks a Blessing or a Curse?
http://forum.transgenderzone.com/viewtopic.php?f=48&t=4273
Summit to Talk about?!
Wales is a growth area for transgender Issues! And is something you may not have really thought about as leading the way in the UK. This Month We hosted the All Wales Summit conversation in the build -up to their conference soon. Check it out!
Cartoon
In a month where transgender-Currency is stronger than ever before then what better cartoon than this to demonstrate it!
http://media.transgenderzone.com/…
Ahhh Coney Island Bearded Ladies and their value never changes!
Of course the big story of the month was Conchita Wurst. The controversy was that is this just drag exploiting and lowing social status to get noticed. Nothing has changed in a century! Today many a drag act hides behind the transgender umbrella, however is that fair if they leave their frock at the stage door when transsexual women have no such option and have to live with the fall-out away from the safety of the stage or studio. Of course this enraged the Russians who already have a terrible track record with transgender issues, and hunting gangs may just have something else to justify their anger and prove their point that trans are dangerous to their young?
The truth is Conchita could have won without a beard. But that would be too much like Dana International I guess. So the beard has become a 'meme', an internet joke in its own right. It certainly got Tom noticed (his boy mode name), but can equally be seen as mysogyny as it is parodying women with the use of an accessory (almost like some lion's mane) they cannot match (or grow although a few hirsute women can of course but struggle with it). After all to raise the social status would be to conform. The song was good enough to win no matter who sung it.
So an interesting debate and all the arguments have equal validity.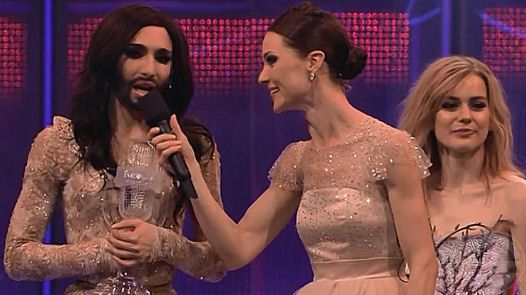 http://forum.transgenderzone.com/viewtopic.php?f=8&t=4294
The Monthly Logs!
Check out what happened last Month on UK television – you maybe surprised!
http://forum.transgenderzone.com/viewforum.php?f=106
Media
We review a number of programmes and you can see the most recent here – From BBC Doctors FTM storyline to Celebrity Juice's increasing transphobia – far too much to list so check it out here! http://forum.transgenderzone.com/viewforum.php?f=16
So that is my pick of the crop for this month so far 🙂 Enjoy!
Sam
Who am I?